What's on at The Barton.    Like us on Facebook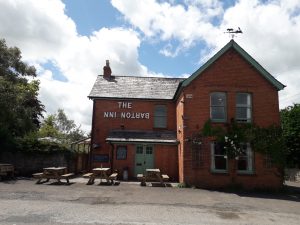 In line with the latest Covid-19 government guidelines, we have made the following adjustments to life at The Barton Inn.
There will be much reduced parking to the front of the pub, particularly on fine days as this will be used for extended outdoor seating. If you are able to walk or cycle to the pub, this would be very helpful. Otherwise, park where

you can down the lane or around the village (obviously respecting residential access).

We will provide table service throughout all seating areas. We will take your order, bring your drinks (or food) and remove all empties. There is no standing/sitting or ordering at the bar.
Seating has been limited in the bar itself but fear not – if all tables are being used, we have extra outdoor seating to the front and rear of the pub. We are also opening up the skittle alley which is the safe option if we're having a wet one!
We encourage contactless payment where possible but will accept cash also.
There will be hand sanitiser at various points around the premises.
If you require any additional cleaning or hand sanitiser/wipes within your seating area, please ask a member of our team!
Look out for other signs and guidance shown around the pub.
To begin with our Opening Hours will be:
• Monday – Thursday 5 – 8pm
• Friday – 4 – 11pm
• Saturday – 12 – 11pm
• Sunday – 12 – 8pm
These opening hours will be adjusted as demand changes.
Food:
Bookings only. We need 24-hour notice to avoid disappointment.
• Tuesday – Thursday – We will continue our Food takeaway service. Please contact us on sharonstaffordz@yahoo.co.uk for the weekly menu and times.
• Friday – Curry, Kebab, Pizza (available to eat in and takeaway)
• Fish and Chip Van
• Sunday – Roast (available to eat in and takeaway).
All of the above is subject to change weekly.
Stay safe, John and Sharon xx