Atticus Green… Mind Reader and Mentalist
2021-08-28 @ 8:00 pm - 11:00 pm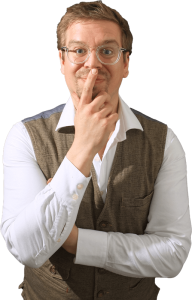 As a child, Atticus was an angelic chorister for his local choir. When puberty hit and his voice broke they kicked him out with a 'thank you' and a £25 WHSmith voucher. He immediately went and bought a Jimmy Hendrix CD and a deck of Tarot cards.
Over the next 20 years Atticus studied Tarot, reading dynamics, victorian charlatanism, mentalism and everything in-between.
By now he had gained and developed techniques in psychology and body language and used these to perform as a Mind Reader, or Mentalist.
After dipping his toes into the real world and deciding it just wasn't for him, Atticus realised he could do what he loves AND earn a living from it.
Now in his mid thirties, Atticus is happily married with two dogs and a wonderful, weird and bonkers job – Master Mind Reader and Tarot Reader. Atticus has created, lectured and consulted for some of the worlds leading mentalists and performs simply because he loves what he does. He knows he's a lucky chap, but can't get used to referring to himself in the third person.